Jump to recipe
Um, no, that doesn't mean there's spiders in the bread, or that it looks like a spider. A spider was a skillet with three long legs on the bottom, meant to cook over a fire on the hearth of a fireplace, or even a campfire. Even though stoves and ovens were common in the 19th century, it's not uncommon to see skillets still referred to as spiders, even though they no longer had the legs.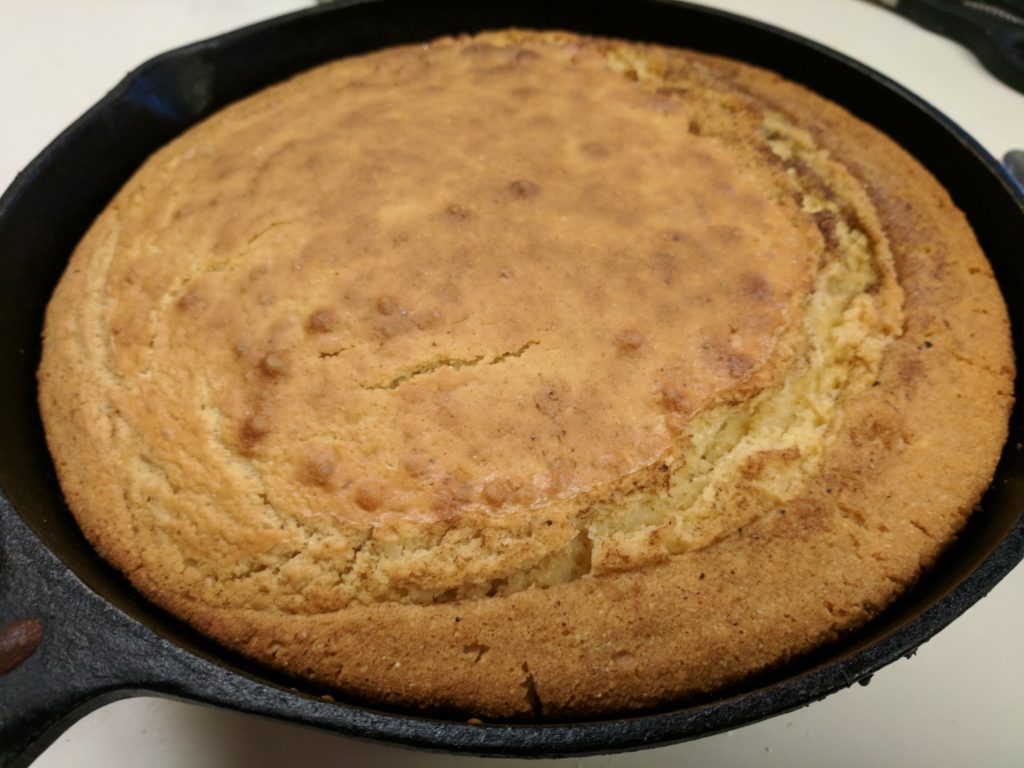 This recipe comes from Miss Parloa's Kitchen Companion, 1887[1].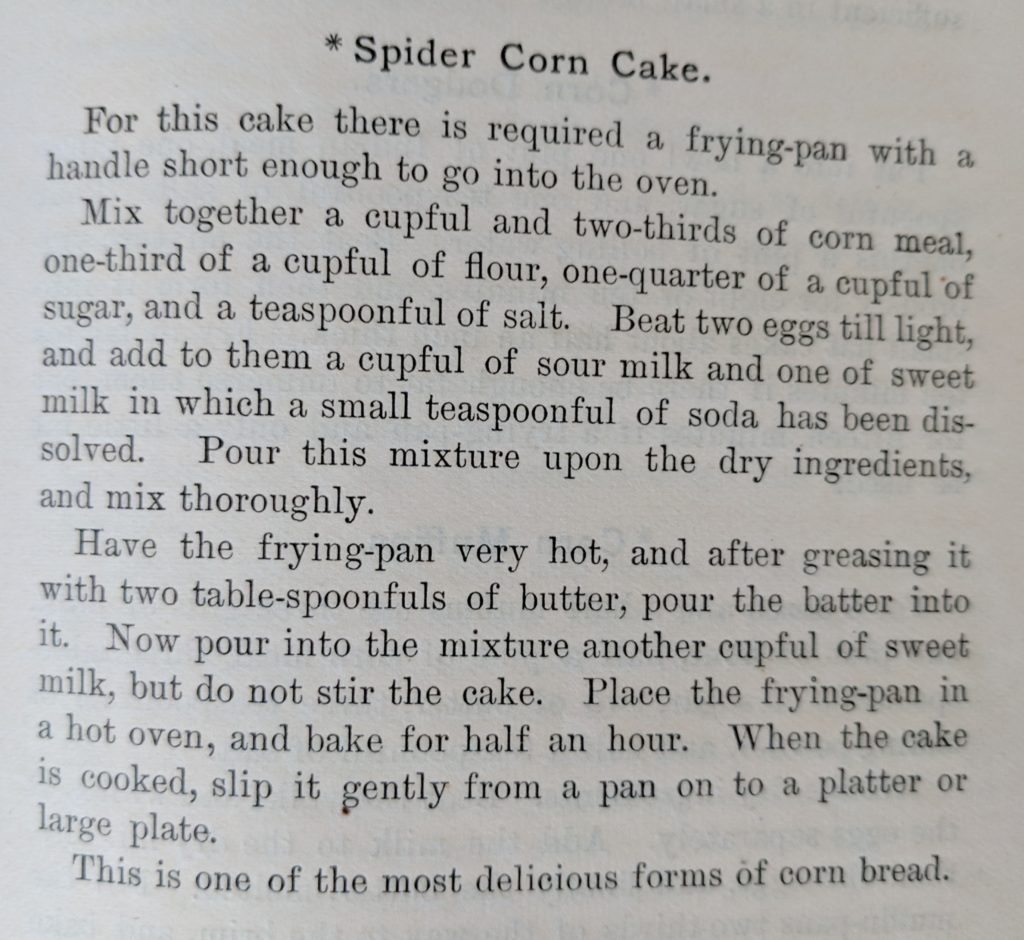 First, I'm a huge fan of cornbread. If there's a recipe that sounds really good or unusual, I'm gonna be trying it. But this one isn't particularly unusual. In fact, it's a pretty standard recipe for the time. But it did look very good, and simple. And I am here to say that I'm glad I tried this one, it is hands-down one of the best cornbread recipes I've made.
But a factor in this may be the ingredients as well. I picked up a bag of stone ground corn meal from Carolina Plantations, and well, it's very much different from the typical corn meal you buy at the grocery store. First, this is white corn meal, something specified by Miss Parloa in several of her other recipes. Second, it's ground much finer than typical yellow corn meals. It more closely resembles masa, the corn flour used for making tortillas. I have no doubt at all that this was a huge factor in how light and cake-like this batch of corn bread came out. In fact, this got me thinking, we've all made corn bread, and had it come out dry and mealy. Could it be that we're simply using the wrong cornmeal? There are other possibilities, including an old technique of "scalding" the cornmeal, which also makes corn bread come out much better. But in this case, given the specific requirement for white corn meal in so many of her other recipes, I feel the white corn meal is appropriate.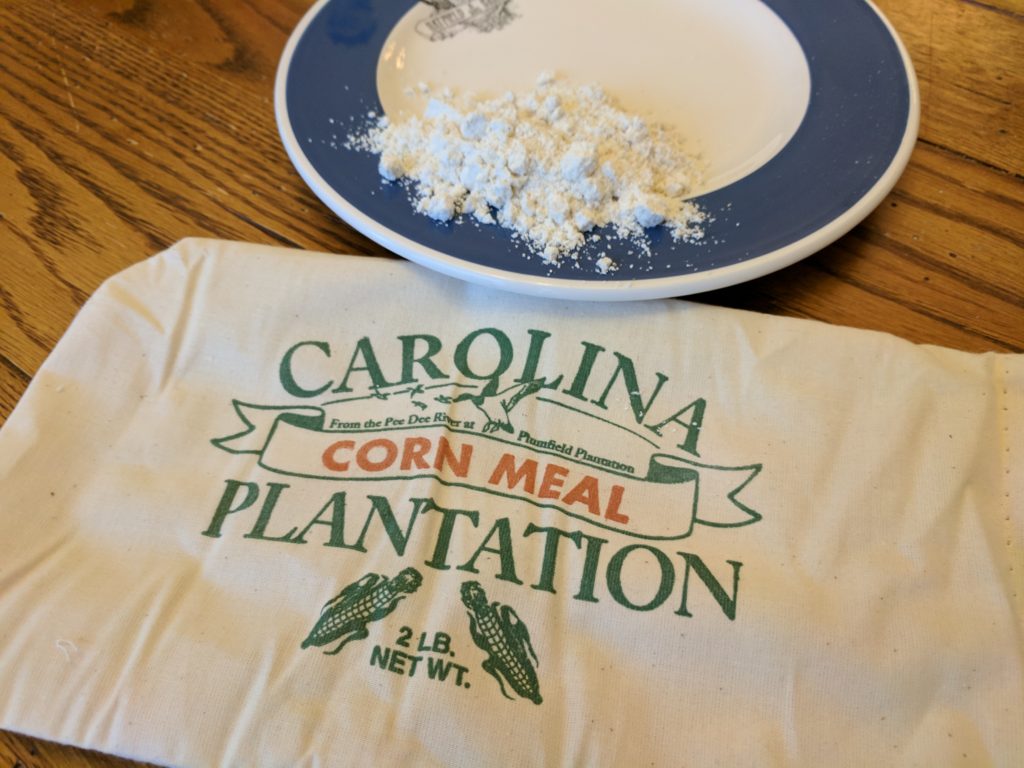 An item of note in this recipe. You will see that the (baking) soda is dissolved in the milk before adding it to the dry ingredients. This is absolutely the norm for recipes of the time. In modern recipes, you are more likely to see the soda added to the dry ingredients before the liquid is added. Adding the soda to the liquid first is probably due to the baking soda being of less uniform quality and less finely powdered back then. Dissolving it in the milk would have made sure it was completely incorporated. In my adaptation, I use the more modern method of adding it to the dry ingredients. Baking soda is a time-bomb. Once you add it to a liquid with acid (the buttermilk), it immediately starts working. Adding it to the dry ingredients shortens the exposure time by a few seconds. But, if you live in a humid area, and have issues with your baking soda clumping, you should certainly consider dissolving it in the liquid. 
And that leads to one more note. When using baking soda, timing is everything. You want to hold off on combining the liquid and the soda until everything is ready. Once you get the batter mixed, it needs to go directly into the pan(s) then immediately into the oven. So before that final step in the mixing, make sure the oven is up to temperature, and the pan is ready. Mise en place!
Ingredients
1-⅔ cup corn meal
1-⅓ cup flour
¼ cup sugar
1 tsp salt
1 tsp baking soda
2 eggs
1 cup buttermilk
1 cup milk
2 Tbsp butter
Instructions
Preheat oven to 400F
In a large bowl, whisk together the corn meal, flour, sugar, salt and soda.
In another bowl, beat two eggs well, then whisk into them the buttermilk and milk.
Heat a ten or twelve inch ovenproof skillet on the stove, or in the oven until quite hot. Cast iron works quite well.
Now whisk the liquid into the dry ingredients, mixing until well-combined. Add the butter to the skillet, and when it has melted, pour the batter into the skillet. Immediately place the skillet into the oven and bake for 30 minutes. It is done when a toothpick inserted in the center comes out clean.
When done, remove from the oven, let cool a couple minutes, then turn out onto a rack to cool.

[1]
Maria Parloa, Miss Parloa's Kitchen Companion. Estes and Lariat, 1887.