Jump to recipe
This recipe is found in the Housekeeper's and Mother's Manual​1​ by Mrs. Thomas L. Rosser, 1885. Typical of recipes of the era, the instructions are a bit sparse:

Also typical of both 19th and 18th century American recipes, this recipe for a rye bread includes an equal amount of corn meal. There isn't much of instructions in this, but that's not much of a problem here, because there's plenty of other recipes, both historic and modern to use as examples.
Some points to consider. In the 19th century, the soda and cream of tartar would likely have been mixed in the liquids first, due to the soda often being less than perfect in it's powder state. The corn meal absolutely should be stone-ground. The corn used in stone-grinding is softer, and more readily absorbs liquid. This results in a bread that is not "grainy". I recommend white cornmeal, yellow meal should also work. The recipe calls for a "large" tablespoon of molasses, revealing the lack of standardization of the time. What the author is talking about is just a large spoon, not an actual standard Tablespoon. I recommend using one and a half to two standard tablespoons. A heaping 1/2 teaspoon of salt will work for the "small" teaspoon of salt.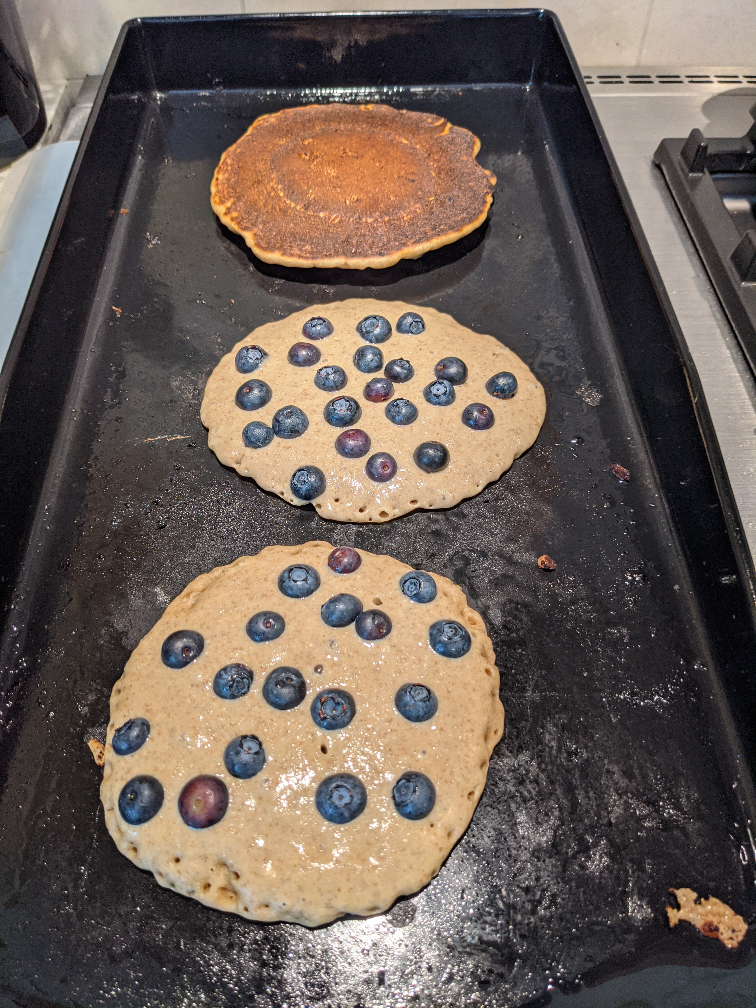 And feel free to add fruit and such to these. I had some blueberries on hand that worked out perfectly.
(1)

Rosser, Mrs. T. Housekeeper's and Mother's Manual; Everett Waddey Company: Richmond, VA, 1895.
Rye Pancake, 1895
Recipe from: Housekeeper's and Mother's Manual Mrs. Thomas L Rosser 1895

Ingredients
2 Cups rye flour
2 Cups stone-ground cornmeal
1 Cup flour
2 eggs
1.5 – 2 Tablespoons molasses
1 teaspoon baking soda
2 teaspoons cream of tartar
1/2 heaping teaspoon salt
Milk
Instructions
Mix the flours, corn meal, salt, soda and cream of tartar in a mixing bowl, whisk to mix.
In a separate bowl, beat the eggs well, beat in the molasses and about a half cup of milk.
Add the liquid to the flour mixture, stir in, adding additional milk until you have a smooth batter that is well-mixed.
Heat a griddle or large skillet while the batter rests for a few minutes. Surface temperature should be fairly hot, around 425F.
Check the batter consistency, add additional milk if has thickened too much.
Ladle one pancake onto the hot griddle. If it is so thick it does not spread on its own, the batter should be thinned a little with milk.
Ladle the rest of the pancakes onto the griddle, flip when bubbles pop on the edges, leaving holes. These will cook a little bit darker than regular pancakes.
Serve immediately with butter and/or maple syrup.
Notes
If you wish to add fruit like blueberries, etc., they can be added right before using the batter, or they can just be added on top of the pancakes right after they are poured onto the griddle.