Jump to recipe
If you are American, you have probably already pictured Red Lobster biscuits. Sorry, these are not those kind of biscuits. In England, and often back in the day in America, biscuits referred to thin, crisp baked goods, like today's American cookies and crackers.
These more closely resemble today's commercial cheese crackers. So, why would you make them yourself? Well, for one, they're surprisingly easy. And also, they are lighter in texture, flaky, and you get too choose the type of cheese in them. (In fact, you get to to be sure there actually is cheese in them.) And frankly, they taste a lot better.
The only change I have made to the recipe is to convert the volume measure of cheese to the far more accurate weight measure.
By the way, this is by far my favorite title name of a cook book.
From: Quick Cooking, a Book of Culinary Heresies[1]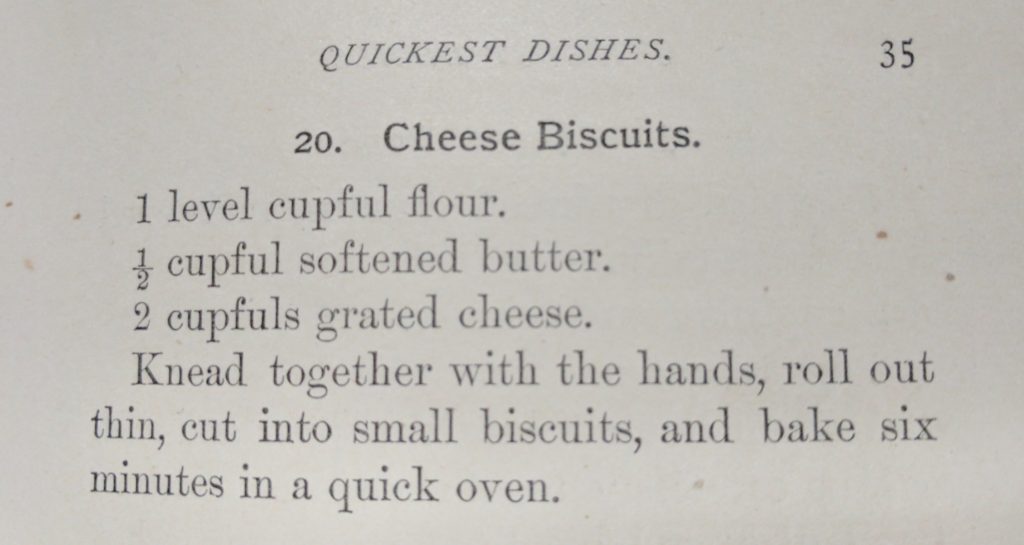 Ingredients
1 cup flour (Soft wheat preferred)
1/2 cup butter
7-8 oz finely grated hard cheese.
Instructions
Take butter out of the refrigerator and let it come up to just a bit cooler than room temperature.
Preheat oven to 425F (Use convection if you have it)
Beat the butter with a spoon until soft.
Measure the flour into a deep bowl. Add the butter and grated cheese.
Toss a bit with a spoon to coat everything with flour, then beat with the spoon until it starts coming together.
With well floured hands, gently knead the dough until smooth and well-mixed. Re-flour hands as needed, this dough will be sticky and greasy to start with.
When smooth, turn out onto a well-floured surface, and roll out very thin (approx 1/8 inch), turning and flouring frequently. It may be easiest to split the dough into two batches.
Dock the dough with a docker, or prick evenly with a fork. Then cut into small biscuits. You can do this with a small round cutter, or cut into squares with a knife or pizza cutter.
Place the biscuits onto parchment lined sheets, about 1/4" apart from each other, and bake for 6-7 minutes, until browned.
Remove from oven, let cool just enough to handle, then transfer to wire racks to finish cooling.
Makes approximately 72 2" biscuits.
Notes
A fairly dry hard cheese like an aged cheddar, or Gruyere works very well with this recipe.
Scraps when cutting can be re-kneaded and rolled for cutting more.
A good mixer like a Kitchenaid will probably make this much easier, just be careful not to over-mix.
These are stupidly addictive.


[1]
Flora Haines Loughead, Quick Cooking: A Book of Culinary Heresies. G.P. Putnam's Sons, 1891.