Jump to recipe
Lately, a lot of folks have turned to baking their own bread, either from necessity due to shortages, or choosing to stay at home. But, for those of use who have baked our own bread for some time, we know it's a fair amount of work, and sometimes frustrating to get "just right."
Which brings us to "no-knead" breads, popular for being easier and relatively foolproof. And it's hardly a surprise that our ancestors had similar recipes. Sally Lunn is a batter-bread recipe, originating in England. While most commonly seen as a recipe for buns, it was also used for loaves. The following recipe is from Miss Parloa's New Cook Book and Marketing Guide, 1880. ​1​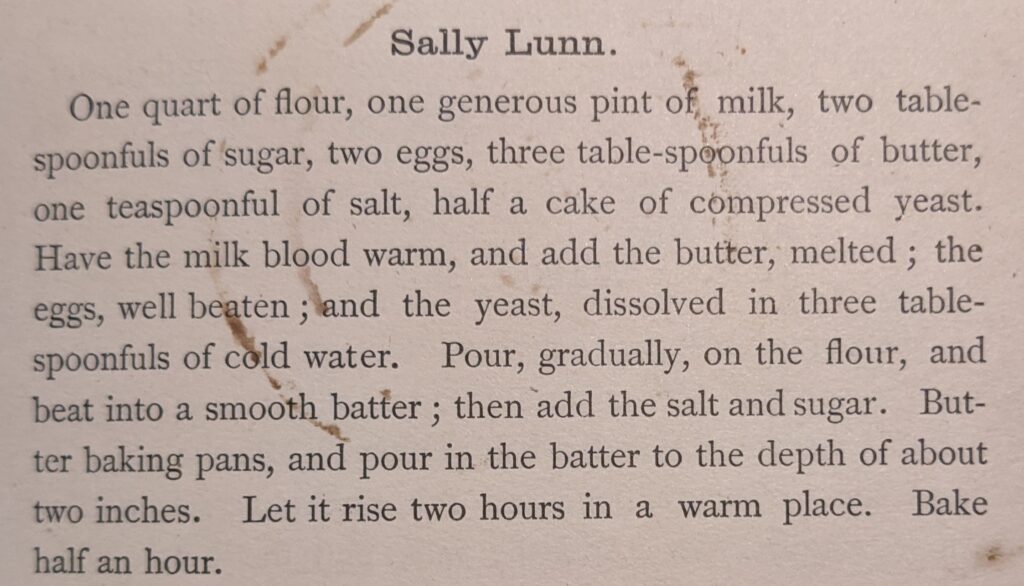 As you can see, it's really not a very complicated recipe. Only one major note is necessary, the proofing time of two hours is far more time than will be needed with modern baking yeasts. In my case, it took less than 30 minutes at room temp for the batter to threaten to overflow the pan.
The recipe produced a very light, very flavorful loaf. It's a bit loose in texture, so for sandwiches, I would suggest cutting it a little thicker than usual. It makes truly excellent toast.
Sally Lunn
Total Time
1 hour, 15 minutes
Ingredients
4 cups flour
2 Tbsp sugar
1 tsp salt
2 eggs
2 cups plus 2 Tbsp milk
3 Tbsp butter, melted
1 tsp yeast (half an envelope)
3 Tbsp water
Instructions
Preheat oven to 375F
Butter a loaf pan, pref 8-1/2×4-1/2
To a large mixing bowl, add the flour, sugar and salt, whisk together and set aside.
In another mixing bowl, beat the eggs thoroughly, until light yellow and completely mixed.
Heat the milk to approx 100F, then whisk into the eggs along with the melted butter.
Add the yeast to the water, mix until dissolved. Add to the liquid ingredients and whisk to combine.
Add the liquid to the flour mixture, mix until smooth.
Pour the batter into the loaf pan, and let rise until the top of the batter has just reached the top of the pan.
Put the pan into the oven and bake for 30-35 minutes, until the top is nicely browned.
Remove from the oven, let cool for 2-3 minutes, then turn out onto a cooling rack.
Notes
The bread will be very soft and springy when you turn it out.
Due to this recipe not involving kneading or significant mixing times, you are not really building gluten here. I used standard All Purpose flour, and I highly suspect you could use non-gluten flour as a straight replacement. I do suggest using relatively tall and narrow pans if you can, since this does help with rising when gluten is not a factor.


(1)

Parloa, M. Miss Parloa's New Cook Book and Marketing Guide; Dana Estes and Company: Boston, 1880.